EVERYTHING YOU NEED

Services and Facilities
For your business or pleasure trips, at the Hotel Cartagena Plaza you will find everything you need. Complement a pleasant stay with our additional benefits and services.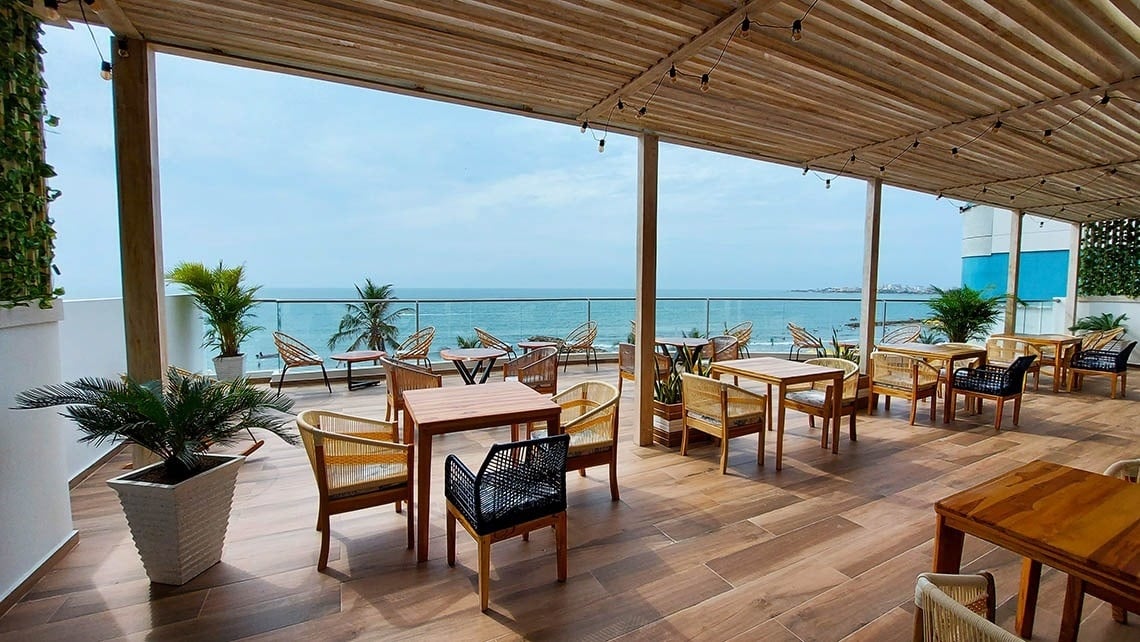 RESTAURANT Lucia
Restaurant in which the Caribbean and Mediterranean culture merge to offer you a gastronomic offer, where tasting fresh, healthy and delicious dishes will become an unforgettable moment. Lucia, Mediterranean fusion cuisine, has a bar to enjoy premium liquors, traditional and signature cocktails.

In it you will find environments that reflect culture, innovation and design that are combined with the beautiful Cartagena sunsets, leaving in your heart the desire to relive this memorable trip.
Contact Us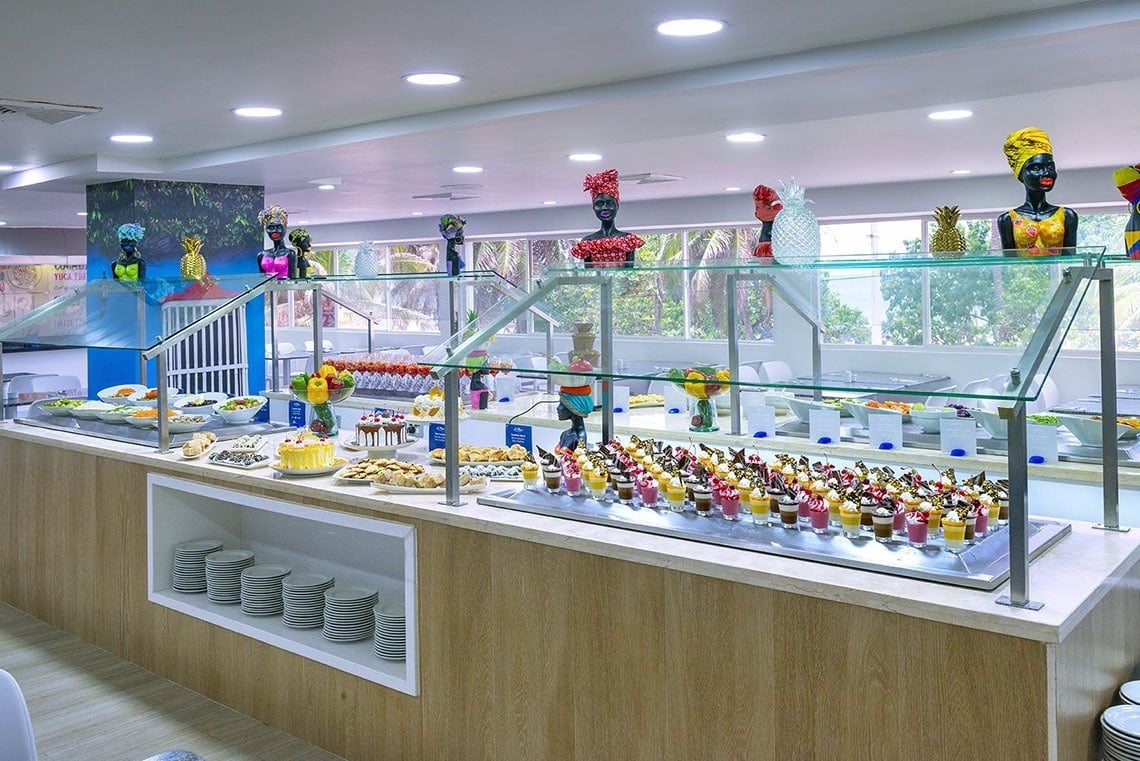 RESTAURANT Buffet Le Place
Delight your palate with the best national and international food in a spacious and modern environment, special for delicious Breakfasts and Buffet Lunches. For Dinner we offer varied thematic buffets changing each day: Monday: Mediterranean, Tuesday: Oriental, Wednesday: Seafood, Thursday: Typical Cartagena, Friday: Italian, Saturday: Colombian and Sunday: Mexican.

Keep in mind that on a temporary basis, and in compliance with our Biosafety Protocols, the entrance will be handled with prior reservation for breakfast, lunch and dinner.
Contact Us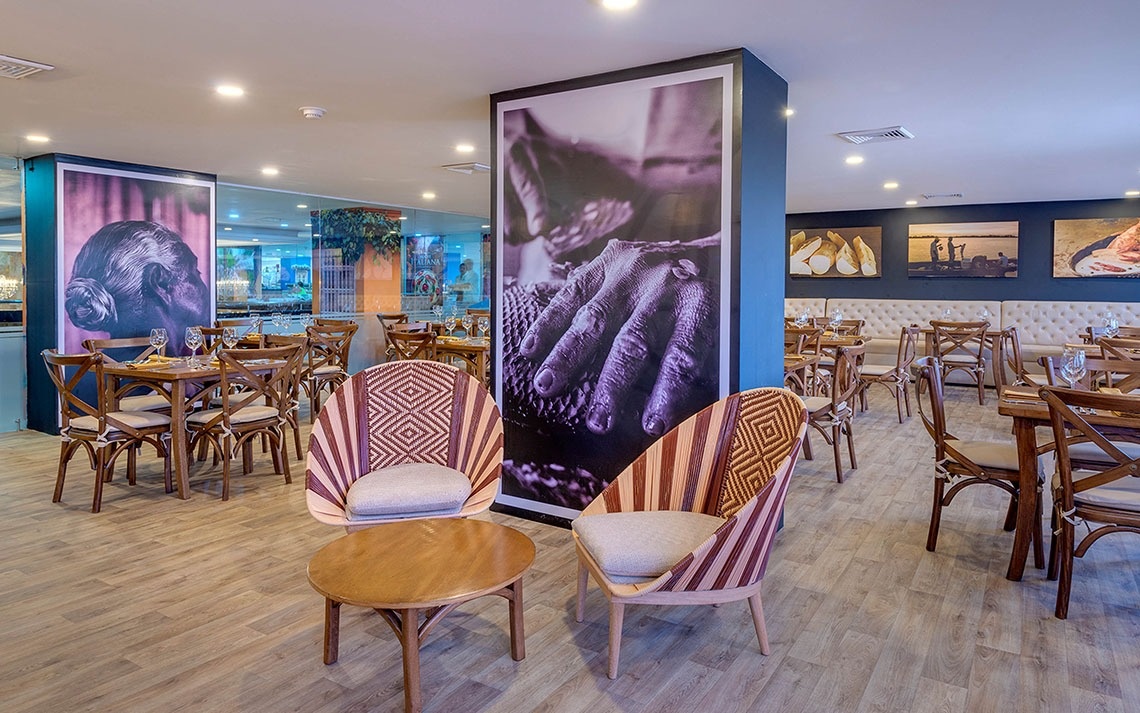 Kazabe RESTAURANT
The flavors, traditions and richness of the Bolivarian culture are the protagonists of the Kazabe Restaurant. Surprise yourself with an authentic gastronomic proposal designed by Cartagena chef Charlie Otero and inspired by traditional preparations from our Department to create an innovative menu, with techniques, ingredients, cooking methods and unexpected recipes.
Book a delicious experience and take a tour of the beautiful Bolivarian savannah through the flavors and indigenous elements of the department such as the sanjacintera hammock, photos of our rivers, products and characters of our culture.
Download MENU
Contact Us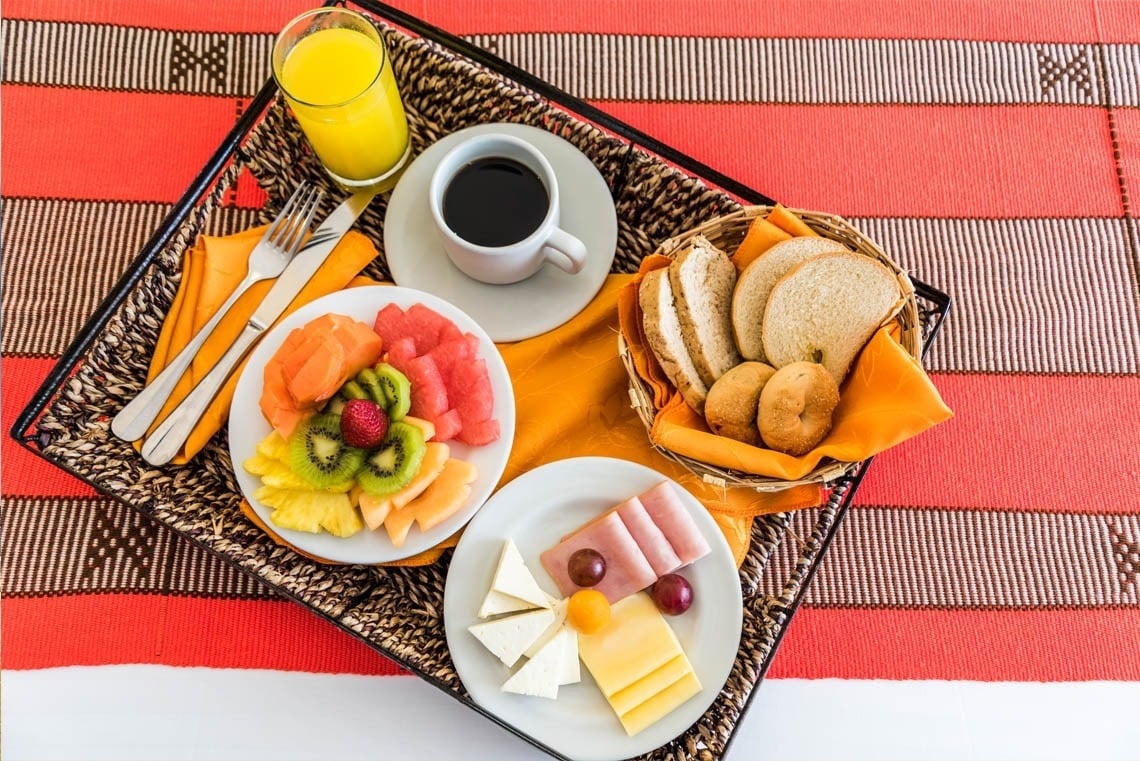 ROOM Service
If you prefer, you can also enjoy our dining options in the comfort and privacy of your room.
Let us serve you in a personalized and timely manner, with the excellence and warmth you deserve. Room service: From 6:30 am - 9:30 pm
Download MENU
Contact Us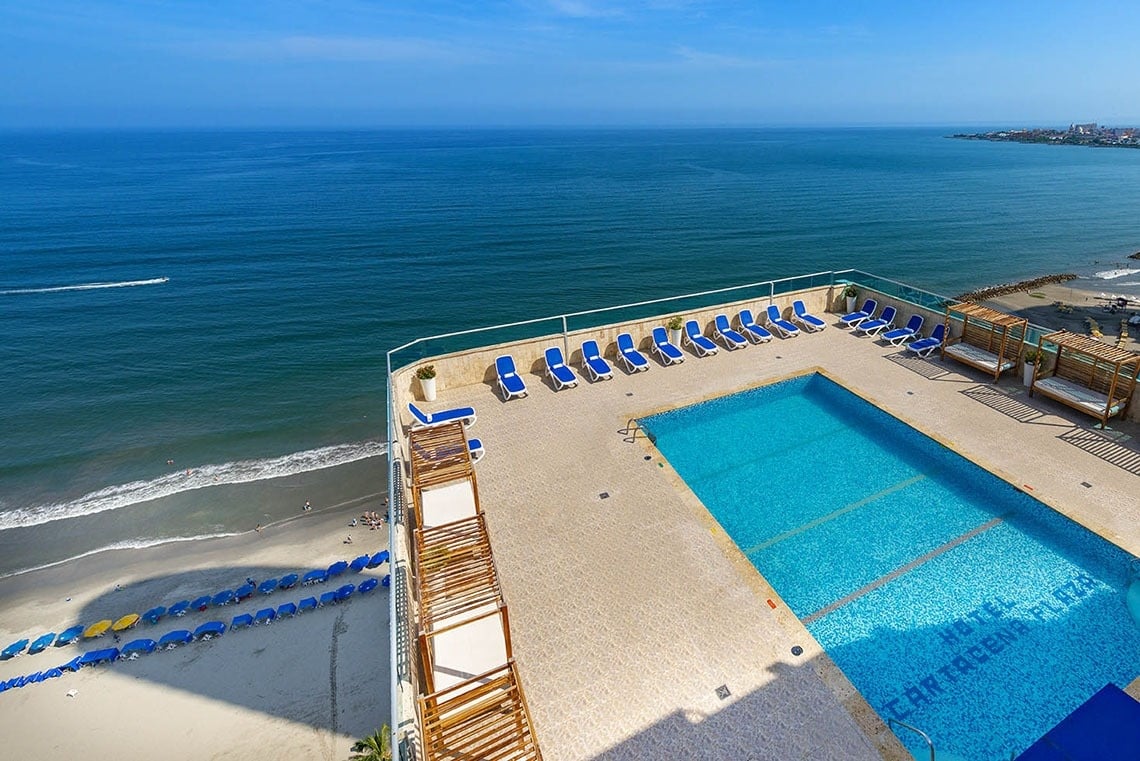 Panoramic POOL
Contemplate the wonderful combination of history, the sun and the Caribbean Sea from our panoramic pool located on the 18th floor, where during the day you can sunbathe in comfortable and comfortable sun loungers, accompanied by refreshing drinks or liqueurs of your choice.

Pool area: 10.83 m long x 6.80 m wide

Maximum Depth: 1.30 m

IMPORTANT: According to our Biosafety Protocol, keep in mind that our pool temporarily has a MAXIMUM PERMITTED CAPACITY of 30 People. For its use, you must make your reservation in advance at the times available during your stay.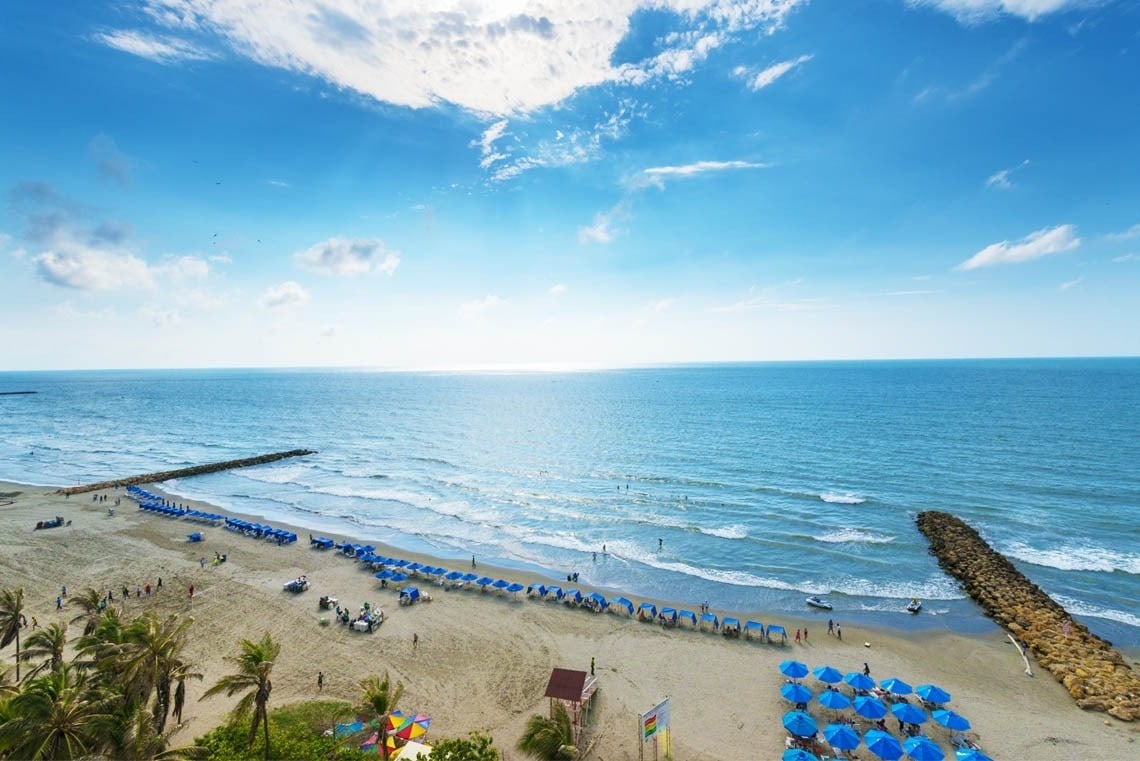 Beach AREA
Thanks to its privileged location, Hotel Cartagena Plaza has a beach area in front of the hotel. Immerse yourself in the warm waters of the Caribbean Sea and enjoy the waves, the sun and the enchanting Cartagena breeze.
Keep in mind that the beach area, chairs and umbrellas in front of the Hotel are administered by local entities and the District Mayor's Office of the City and prior reservation through this
link
is required to enter.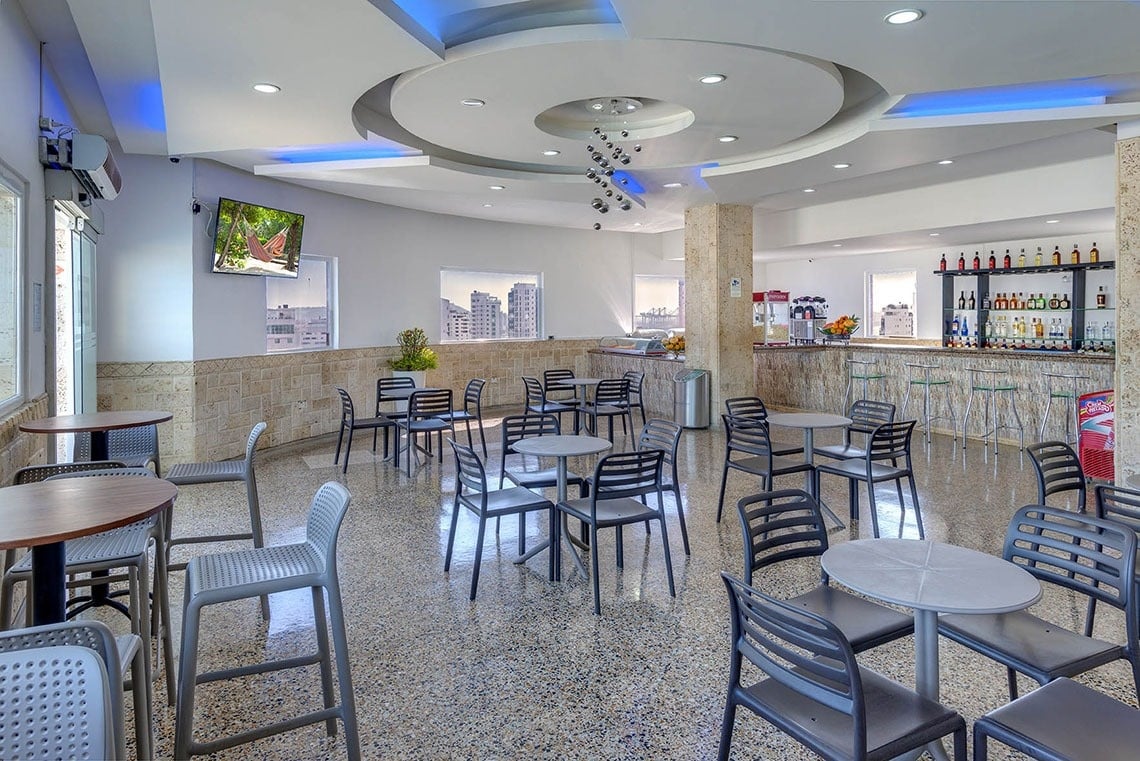 BAR Palenke - 18th Floor
A Spot Bar on our 18th Floor invites you to enjoy refreshing tropical cocktails or liqueurs of your choice by the Pool. Also, learn the secrets of our Local Gastronomy in our Caribbean Cooking Classes and enjoy delicious snacks and appetizers with Your All Inclusive Plan.
Choose your Cocktail
Minibar options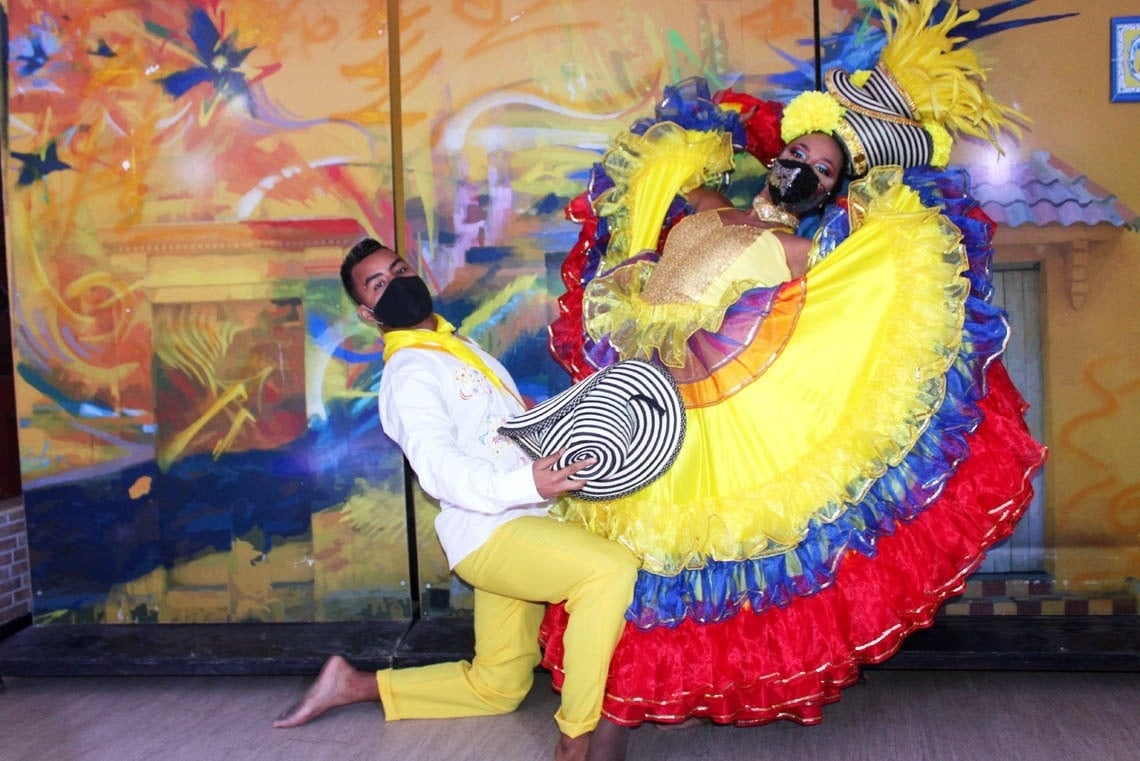 DISCO BAR Rezak Bar Club
The rumba is turned on in the best crossover atmosphere in our Rezak Bar Club nightclub, with enveloping lasers and high fidelity sound, presentations of musical shows every day and a DJ that will make you dance until the end of the night. Rezak is also an ideal space for holding your integration events.
IMPORTANT:
Temporarily, by disposition of the national and district entities, we have not yet enabled our Disco service.
Cocktail Menu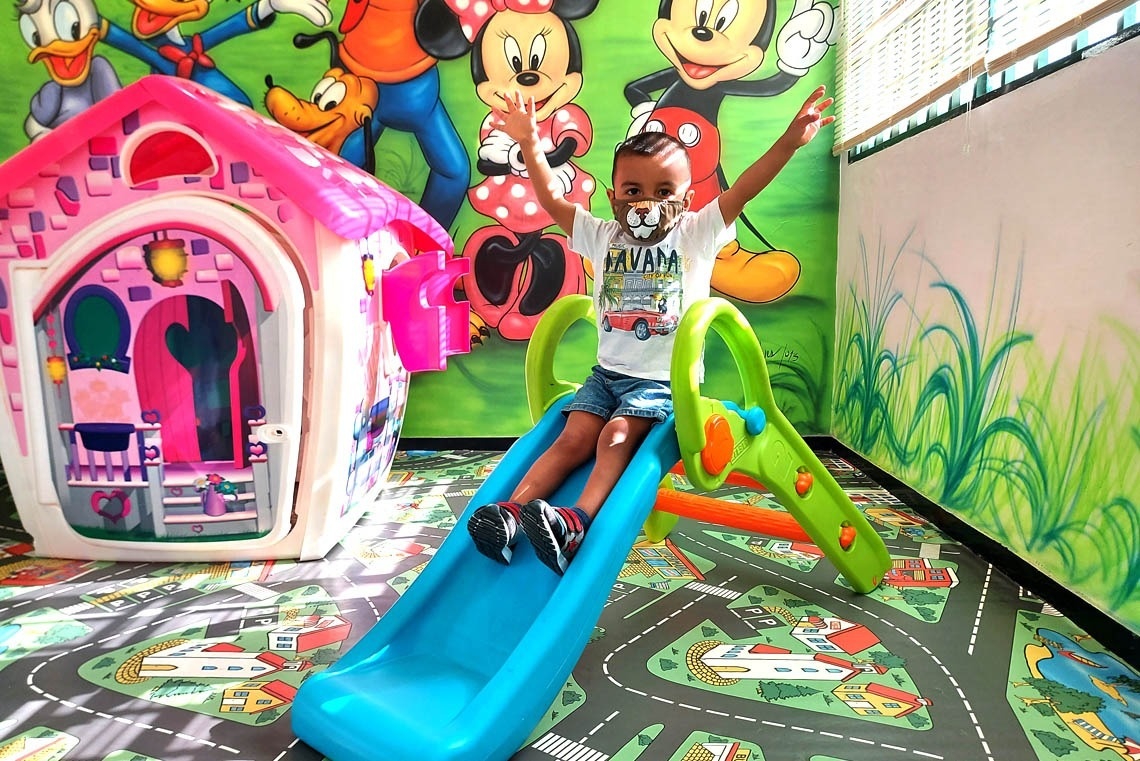 Entertainment and Fun
In our hotel, we have multiple activities, sports, games, contests and entertainment shows led by our recreation staff. You and your family will have a wide range of possibilities to enjoy the most unforgettable vacations at your Hotel Cartagena Plaza, here are our options:
• Pelikanos Kids Club and Teen Club: Located on the 18th floor. Your children and young people will have fun in the games room, with Xbox 360, ball pool, movie afternoons, crafts, fun dynamics, ping pong table and foosball.
• Panoramic pool and pool bar: Located on the 18th floor. Snacks, towels and sunbeds.
• Thanks to its privileged location, Hotel Cartagena Plaza has a beach area in front of the hotel. Remember that this is administered by the City's District Mayor's Office.

• To end the day you cannot miss our Show Time every day from 8:00 pm. Contests, theme nights and dance shows in event rooms or hotel lobby.